The wood-based material, GrowDex, has been developed for the needs of the pharmaceutical industry and it is manufactured at UPM Kaukas' mills in Lappeenranta. The international conference of biomedicine has been an excellent way to introduce birch nanofibrillar cellulose products to experts. 
The UPM 6th annual conference was held from 17th to 18th September. Held in hybrid form – both at the Biofore House and online – the event was a success. It was hosted by director of UPM Biomedicals Johana Kuncova-Kallio.
The conference reached a record number of remote participants 
Leading experts and researchers in biomedicine from universities and commercial research institutes brought together the present research and discussions on current topics. Remote connections drew 250 online participants to the network and 30 people took part at the Biofore House. According to the organizer Nina Mäntynen, the popularity of the event grew enormously from the average 100 participants, because of the opportunity to take part remotely. 
"In addition to education, the experts took advantage of built-in meeting rooms for networking, from which we received a lot of good feedback," says Mäntynen.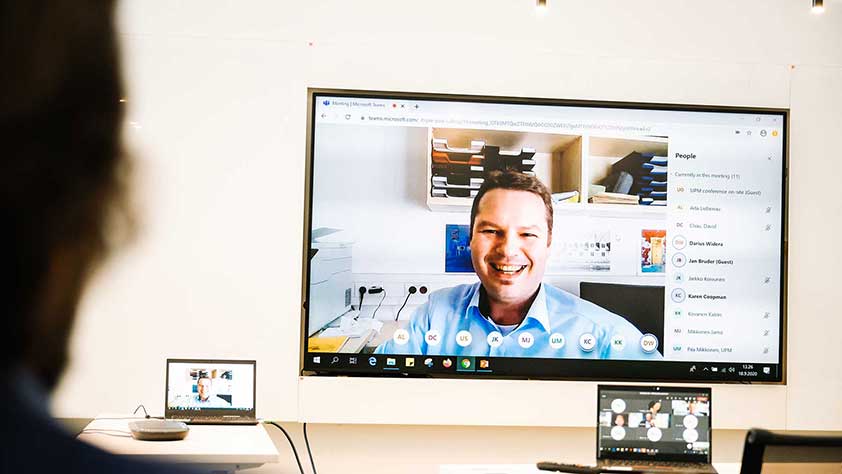 GrowDex in drug research 
GrowDex gels are used e.g. in cancer research. Cancer cells are grown in a homogeneous hydrogel that mimics the natural growth environment of human cells and supports cell growth. By growing cancer cells, researchers can study the biology of cancer, including modelling the progression of the disease, and search for more effective cancer drugs. 
GrowDex is ideal for 3D cell culture. When cells grow three-dimensionally in the hydrogel, their behavior mimics the unique conditions in the human body better than if they were cultured traditionally in 2D, i.e. on the surface of a Petri dish.  
Gels are also used in organ-on-a-chip models or 3D bioprinting, which can be used to model human organs on a miniature scale. 
Wood-based GrowDex does not contain any animal-derived DNA, unlike traditionally used products, so animal-derived DNA cannot distort research results on e.g. human cells. In addition, the question of ethical products is more and more important for a growing number of researchers. 
The versatile GrowDex gels are suitable both for the study of an individual case of cancer and for massive drug studies, where large amounts of different drugs can be tested on human cells automatically using robotics.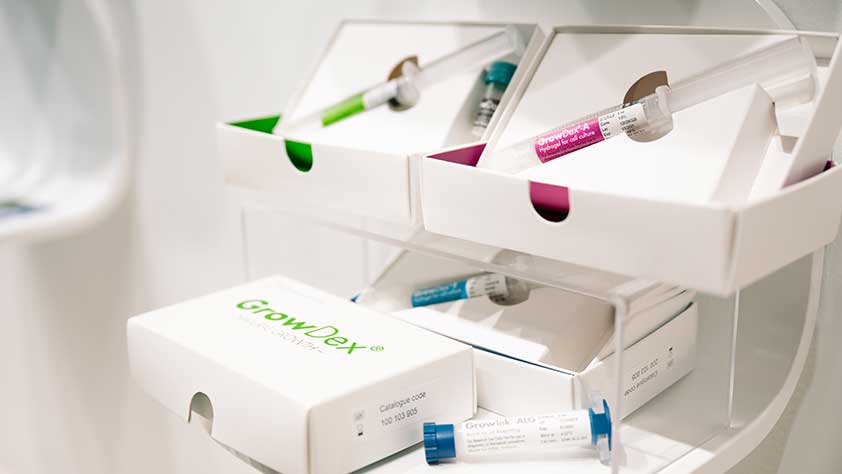 GrowDex hydrogels have multiple applications 
GrowDex can be used e.g.  to find a cure for a rare and atypical cancer. It is possible to take a sample of the cancer patient's tumor and culture the cancer cells in GrowDex hydrogel. The created cancer cell model represents the original tumor. Cancer drugs or drug combinations can then be tested in 3D cell cultures using a patient representative model to find the best drug or drug combination that destroys the patient's cancer cells. Thereafter, the proven anticancer medication can be applied to the treatment of the patient. 
Individual cancer treatment and research such as the previous one is still in its infancy, so it requires a special interest from the attending physician towards research in the field and contacts with researchers. However, individualized cancer treatment methods have already saved lives in rare cases of cancer. 
GrowDex also works in the storage and transport of artificial organs, biomaterials, and cells, and potentially in drug dosing. With freeze-drying, biomaterials and cells are retained in the gel during long-term transport or storage. At the same time, the hydrogel provides protection for valuable cell samples. GrowDex has shown positive results in preliminary studies when the hydrogel has been tested for drug dosing. 
GrowDex is typically used in academic research and research programs of private research institutes, as well as in their joint projects. The conference held in September is one way to promote UPM Biomedicals' star products and deepen cooperation in the field. UPM Biomedicals is currently involved in 60 different collaborative projects. 
UPM Biomedicals and GrowDex in a nutshell
We currently focus on two application areas; clinical and life science.   

On the clinical side, our natural biocompatible hydrogels serve as biomaterial in wound care, cell therapy and tissue engineering applications.  

In life science, our main product is GrowDex® – a bio-friendly hydrogel extracted from birch. It is a ready to use hydrogel that mimics the extracellular matrix (ECM), supporting cell growth and differentiation. 

GrowDex is a versatile product and it has been used in numerous applications ranging from 2D/3D cell culture and organ-on-a-chip models to drug release studies and 3D printing.