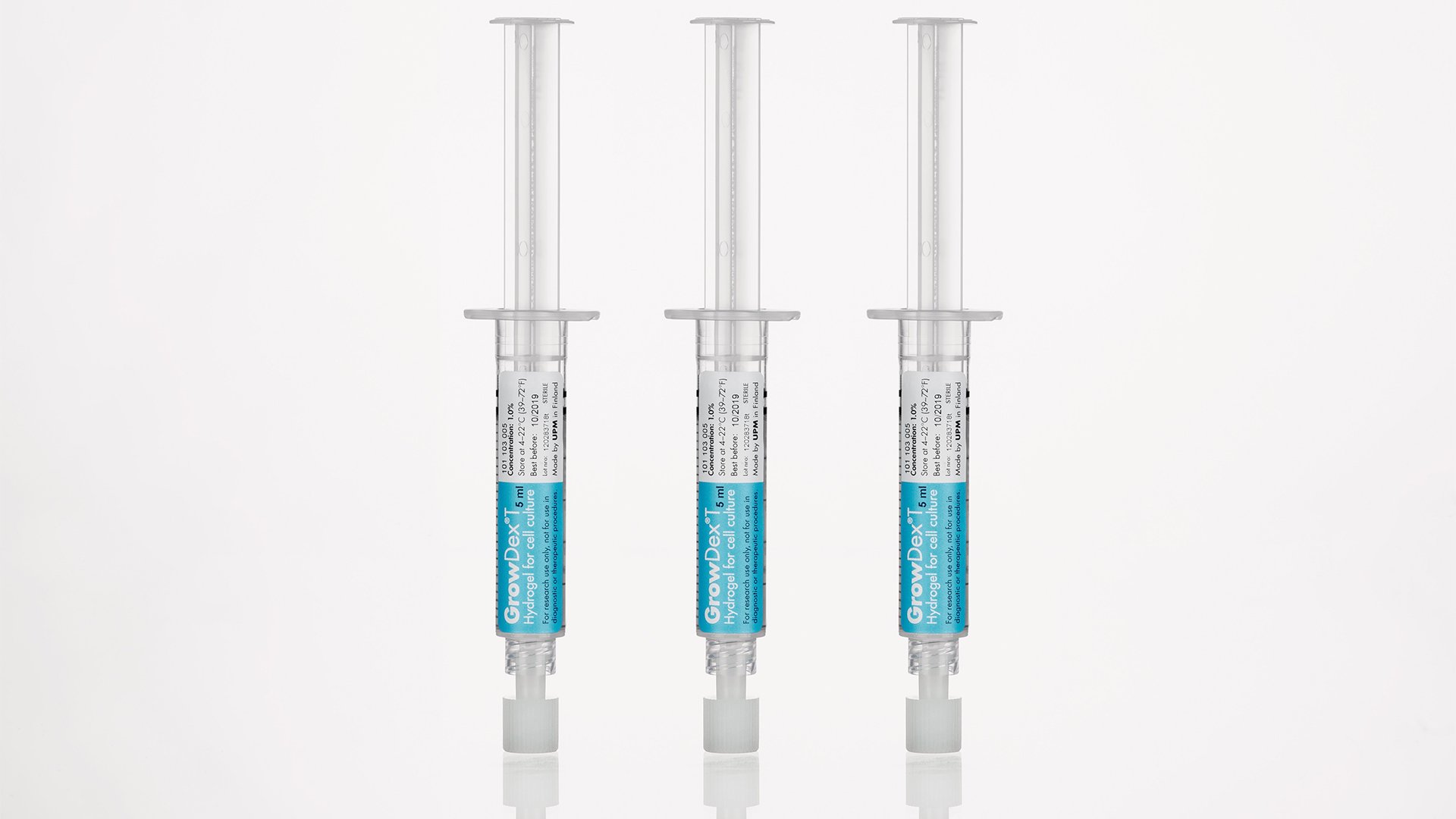 (UPM Biomedicals, Helsinki, 31 July 2019 at 10:00 EET) – UPM launches GrowDex®-T - a new hydrogel offering researchers exceptional imaging properties for visualisation of cells in 3D. GrowDex-T is the latest addition to the UPM Biomedicals' GrowDex hydrogel product range which utilises renewable Finnish birch sourced from responsibly managed forests as the key ingredient.
GrowDex®-T has all of the key benefits of the GrowDex product range, being ready-to-use, room temperature stable, has tunable stiffness and no animal derived components, a clean matrix that can be customised by the researcher for their particular cells. In addition, GrowDex-T has demonstrated exceptional performance in applications such as 3D cell culture (spheroid and organoid formation), drug release studies and 3D bioprinting.
Moreover, GrowDex-T has shown great promise in the area of regenerative medicine as presented by Dr. Akihiro Matsuoka and his team from Northwestern University Feinberg School of Medicine at the ISSCR conference in Los Angeles in June 2019.
UPM Biomedicals continues to grow its product portfolio and offers customers and collaborators worldwide an increasingly extensive range of tools to enhance their research. GrowDex products are commercially available through UPM Biomedicals' online store at biomedicalsshop.com and via our partners.
For further information, please contact:
Jane Spencer-Fry, Director, UPM Biomedicals, tel. +44 7881 557511
UPM
We deliver renewable and responsible solutions and innovate for a future beyond fossils across six business areas: UPM Biorefining, UPM Energy, UPM Raflatac, UPM Specialty Papers, UPM Communication Papers and UPM Plywood. We employ around 19,000 people worldwide and our annual sales are approximately EUR 10.5 billion. Our shares are listed on Nasdaq Helsinki Ltd. UPM Biofore – Beyond fossils. www.upm.com
Follow UPM on Twitter | LinkedIn | Facebook | YouTube | Instagram | #UPM #biofore #beyondfossils