UPM's Biofore Base research centres in Lappeenranta, Finland and Changshu, China accelerate the development of new bio-based products and their launch to markets. A third research centre is under construction in Leuna, Germany in connection with the upcoming biochemicals refinery. The centres unite UPM's various technologies and globally accumulated experience and expertise in the new and existing businesses.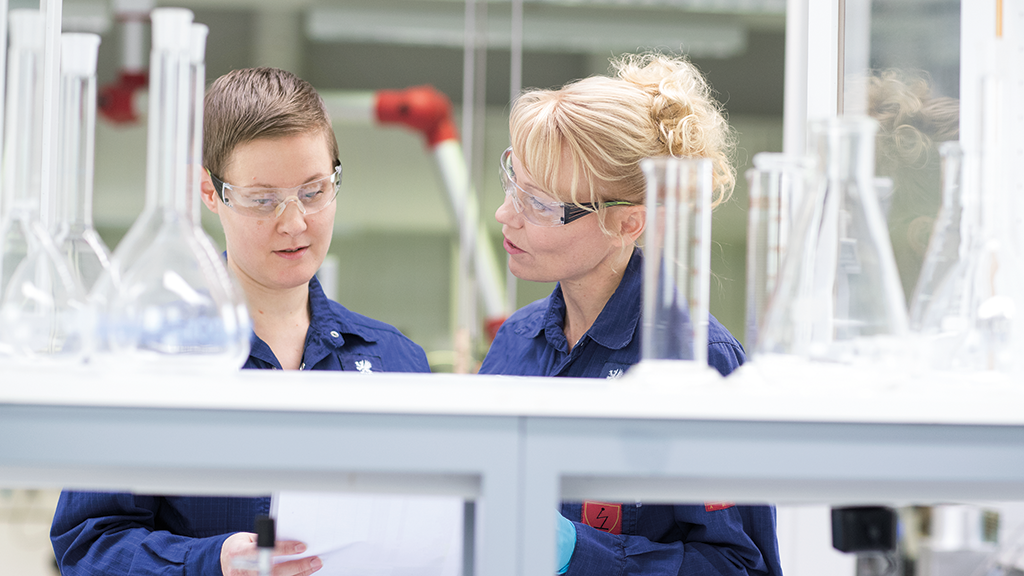 In addition to research, the Biofore Base research centres also focus on piloting and analytics. They enable seamless collaboration with customers, value chain partners and research organisations such as universities. The research centres work closely with UPM businesses, mills and the company's other research centres in various countries.
The Lappeenranta Biofore Base focuses especially on the growth businesses: biochemicals, biofuels and specialty packaging, as well as new growing end uses for pulp. Founded in 1961 and employing 170 persons, Lappeenranta research centre is UPM's largest. At the beginning, the work of the research centre focused on product development of the sulphite pulp mill and research into various paper technical properties. Research on environmental protection has been carried out from the beginning and new ways to minimise environmental impacts are still being explored. A significant change took place in 2008, when a Biorefinery Development Centre was established next to the existing research centre to support the development and piloting of new research areas. During its 60 years of operation, the research centre has expanded significantly, the most recent expansion being the large pilot hall completed in 2019. Today, the centre plays a significant role in UPM's transformation as a frontrunner in bioeconomy.
The renewed Asian Biofore Base in Changshu, which will open later in the autumn, is now supporting various UPM businesses. Most recent additions have been additional piloting capabilities for speciality paper and biocomposite products. Established in 2007, the research centre complements the global network of UPM's research centres. The newest member in the network is the Leuna Biofore Base, which will open at the end of the year. The research centre will be part of the upcoming biochemicals refinery and specialises in developing new biomolecular products.
"Our strategic research accelerates the commercialisation of bio-based solutions into viable industrial
processes. Biofore Base is a platform that supports our various businesses with strong piloting and product development globally as well as develops renewable and recyclable products and materials," notes Heikki Ilvespää, Vice President, Research and Development at UPM.
"The Lappeenranta research centre has played an important role in the development of many products already for 60 years. Together with our businesses, we have successfully launched, for example, renewable diesel made from crude tall oil and packaging materials based on renewable raw materials to replace fossil-based plastic. Also, our biomedical products GrowDex and FibDex are manufactured and further developed in Lappeenranta," he says.
For further information please contact:
Heikki Ilvespää, Vice President, Research and Development, UPM, tel. +358 40 841 5472
UPM, Media Relations
Mon-Fri 9:00-16:00 EET
tel. +358 40 588 3284
media@upm.com
UPM
We deliver renewable and responsible solutions and innovate for a future beyond fossils across six business areas: UPM Biorefining, UPM Energy, UPM Raflatac, UPM Specialty Papers, UPM Communication Papers and UPM Plywood. As the industry leader in responsibility, we are committed to the UN Business Ambition for 1.5°C and the science-based targets to mitigate climate change. We employ 18,000 people worldwide and our annual sales are approximately EUR 8.6 billion. Our shares are listed on Nasdaq Helsinki Ltd. UPM Biofore – Beyond fossils. www.upm.com
Follow UPM on Twitter | LinkedIn | Facebook | YouTube | Instagram | #UPM #biofore #beyondfossils