UPM has been recognised with a triple 'A' score for its performance and transparent reporting on climate change, forests and water security by the global environmental non-profit CDP. Out of nearly 15,000 companies scored, UPM is one of only 12 companies that achieved the triple 'A'.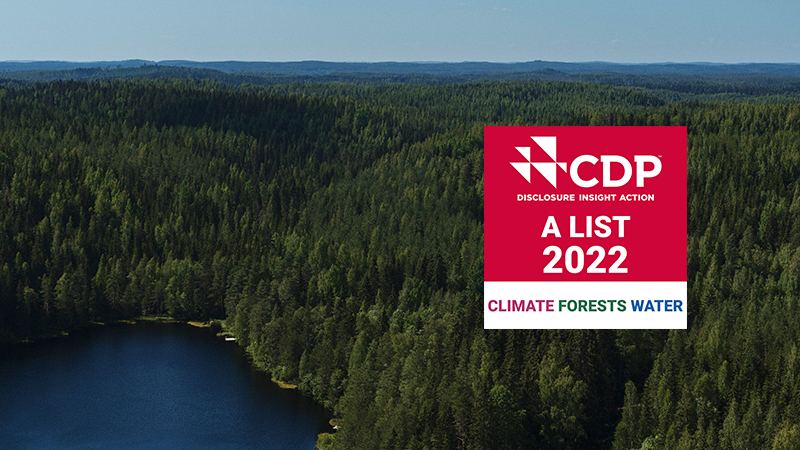 "As a global forest industry company, all three angles of CDP are very important for us," says Sami Lundgren, Vice President, Responsibility, UPM.
UPM's climate action combines sustainable forestry, ambitious emission reduction targets and innovative, renewable products that can replace fossil-based materials and products. "Sustainable use of forests is the basis for our business and our global Forest Action programme takes a holistic, global view on the impact of forestry, combining long-term targets and measures as well as tangible actions on climate, biodiversity, soil, water and social contribution. Reducing our reliance of fossil fuels and materials is crucial. We managed to reduce our fossil CO2 emissions by 8% last year and we are aligned with the -65% 2030 emission reduction target," Lundgren explains.
As a water intensive industry, UPM's focus is on constantly reducing its water use and effluent load and increasing the use of recycled nutrients in its effluent treatment plants. The water risks are also assessed regularly both short and long term, and the assessments confirm that the company's production sites are located in areas with low or medium basin risk.
"COP 27 showed the need for transformational change is more critical than ever if we are to limit warming to 1.5°C," says Maxfield Weiss, Executive Director, CDP Europe. "We must cut emissions by half and eliminate deforestation by 2030, alongside achieving water security on the same timescale. There is no route to 1.5°C without nature," he continues.
"The CDP A List companies are showing they are ahead of the game – taking clear action to reduce emissions and to address environmental impacts throughout their value chains. This is the type of environmental transparency and action we need economy-wide to prevent ecological collapse''.
Nearly 20,000 companies disclosed their environmental data this year. CDP's annual environmental disclosure and scoring process is widely recognised as the gold standard of corporate environmental transparency. In 2022, over 680 investors with over US$130 trillion in assets and 280 major purchasers with US$6.4 trillion in procurement spend requested companies to disclose data on environmental impacts, risks and opportunities through CDP's platform. A record-breaking 18,700 companies responded.
The full list of companies that made this year's CDP A List is available here: 
https://www.cdp.net/en/companies/companies-scores  
For further information, please contact:
Sami Lundgren, Vice President, Responsibility, UPM, tel. +358 40 580 0910
UPM, Media Relations
Mon-Fri 9:00-16:00 EET
Tel. +358 40 588 3284
media@upm.com
UPM
We deliver renewable and responsible solutions and innovate for a future beyond fossils across six business areas: UPM Fibres, UPM Energy, UPM Raflatac, UPM Specialty Papers, UPM Communication Papers and UPM Plywood. As the industry leader in responsibility, we are committed to the UN Business Ambition for 1.5°C and the science-based targets to mitigate climate change. We employ 17,000 people worldwide and our annual sales are approximately EUR 9.8 billion. Our shares are listed on Nasdaq Helsinki Ltd. UPM Biofore – Beyond fossils. www.upm.com
Follow UPM on Twitter | LinkedIn | Facebook | YouTube | Instagram | #UPM #biofore #beyondfossils
About CDP
CDP is a global non-profit that runs the world's environmental disclosure system for companies, cities, states and regions. Founded in 2000 and working with more than 680 financial institutions with over $130 trillion in assets, CDP pioneered using capital markets and corporate procurement to motivate companies to disclose their environmental impacts, and to reduce greenhouse gas emissions, safeguard water resources and protect forests. Nearly 20,000 organizations around the world disclosed data through CDP in 2022, including more than 18,700 companies worth half of global market capitalization, and over 1,100 cities, states and regions. Fully TCFD aligned, CDP holds the largest environmental database in the world, and CDP scores are widely used to drive investment and procurement decisions towards a zero carbon, sustainable and resilient economy. CDP is a founding member of the Science Based Targets initiative, We Mean Business Coalition, The Investor Agenda and the Net Zero Asset Managers initiative. Visit cdp.net or follow us @CDP to find out more.