UPM Biomedicals is pleased to have established Basel, Switzerland, as the new bridgehead of introducing high quality nanofibrillar cellulose to life science and medical applications. UPM Biomedicals became a member of the Switzerland Innovation Park Basel Area resident community on 10 May and plans to open a cell lab in the premises later this year.
"Entering Basel is a milestone for UPM as a leader in sustainable biomaterial development for life science and clinical use. With location in the heart of European pharma, we can easily collaborate on novel solutions for healthcare. We gain access to the local talent pool and become part of the life science community in Basel," says Johana Kuncova-Kallio, Director of UPM Biomedicals, who attended the key hand-over event.
The Main Campus, located in Allschwil, is the newest of the four innovation sites of the Switzerland Innovation Park Basel Area. The campus was inaugurated in 2022 and instantly became a global hub for innovators in the fields of pharmaceuticals, medicine, and research. The landmark architecture by Herzog & de Meuron, developed by SENN, actively promotes vital exchange and offers an attractive, state-of-the-art working environment for start-ups, scale-ups and established companies. The 50.000 square meters campus and the nearby area have further property development ongoing.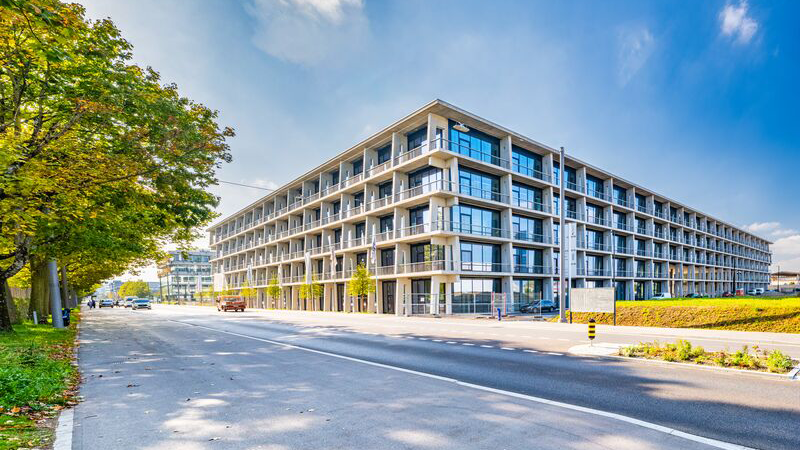 SIP Basel Area Main Campus in Allschwil, between Basel and Alsace, France. Photo: Switzerland Innovation Park Basel Area.
The Main Campus has an impressive list of neighbours in the Basel Area. The Basel Area, next to the borders of France and Germany, with over 700 life science companies is Europe's prime life sciences location and bio-pharma powerhouse. Roche and Novartis, for example, have their global headquarters in Basel. The area is home to many other big life science brands, but also to a myriad of up-and-coming companies and over 1000 research groups working in companies, universities, and innovation centres. Close to 32.000 life-science experts work in the Basel area.
Switzerland Innovation Parks belong to a national network run by Switzerland Innovation, a privately funded non-profit foundation with joint support from the federal and cantonal governments, universities, and research institutes. In addition to Park Basel Area with its four locations, the foundation runs innovation parks in other cities across Switzerland.
UPM Biomedicals' nanofibrillar cellulose (NFC) can be used in numerous forms and it acts as an underlying building block for bridging the worlds of biomaterials, biomanufacturing and medicine. The company's current portfolio is centred around four main product categories: GrowDex® – Hydrogels for 3D cell culture, GrowDase™ – Enzyme to recover cells from GrowDex for downstream processing, GrowInk™ – Bioinks for 3D bioprinting, and FibDex® – Advanced wound care dressing. Nanocellulose is also offered as an OEM material for in vitro and in vivo applications, and a new medical grade hydrogel for implants is under the development as FibGel™.
"Arriving in Basel, one of the most dynamic life sciences clusters in the world, means that we are close to our customers in continental Europe. This in turn allows us to offer support and services to our in vitro customers, but also demonstrate the supreme quality of nanocellulose hydrogel for clinical applications," concludes Johana Kuncová-Kallio.
For further information please contact:
Dr. Johana Kuncova-Kallio, Director, UPM Biomedicals, tel. +358 40 612 6300
UPM, Media Relations
Mon-Fri 9:00-16:00 EEST
tel. +358 40 588 3284
media@upm.com
UPM Biomedicals
UPM Biomedicals makes products for life science and clinical uses based on our patented nanofibrillar cellulose technology from birch wood pulp. Our clinical products are manufactured under ISO 13485 quality management system. Our animal-free biomaterial finds applications in 3D cell culture, drug discovery and screening, cell storage and transportation, 3D bioprinting, tissue engineering, advanced wound care, implants, personalized medicine and novel drug formulations. We also provide cell culture protocol development and workflow integration support services for our life science customers in adopting our technology. www.upmbiomedicals.com
UPM
We deliver renewable and responsible solutions and innovate for a future beyond fossils across six business areas: UPM Fibres, UPM Energy, UPM Raflatac, UPM Specialty Papers, UPM Communication Papers and UPM Plywood. As the industry leader in responsibility, we are committed to the UN Business Ambition for 1.5°C and the science-based targets to mitigate climate change. We employ 17,200 people worldwide and our annual sales are approximately EUR 11.7 billion. Our shares are listed on Nasdaq Helsinki Ltd. UPM Biofore – Beyond fossils. www.upm.com
Follow UPM on Twitter | LinkedIn | Facebook | YouTube | Instagram | #UPM #biofore #beyondfossils