In early October, UPM organized a two-day seminar and networking event on 3D cell culture. The event took place in Helsinki and gathered a significant number of European specialists to discuss the future of 3D cell culture and the possible applications for it.
The audience heard speeches from top scientists such as Dr. Pekka Katajisto (Assistant Professor at Karolinska Institutet), Professor Marja Makarow (Director of Biocenter Finland), Dr. Tuula Heinonen (Adjunct Professor, Director of FICAM), Dr. Marjo Götte (Lab Head at Novartis Institutes for Biomedical Research), Dr. Darius Widera (Assistant Professor at University of Reading) Dr. Paul Roach (Senior Lecturer at Loughborough University), Dr. John Eriksson (Professor at Åbo Akademi University), Dr. Mari Kaunisto (Institute for Molecular Medicine Finland, FIMM), and Professor Susanna Narkilahti (BioMediTech institute at Tampere).
The science community warmly welcomed the chance of sharing knowledge and discussing the challenges and prospects of 3D cell culture with their colleagues.
"We want to promote 3D cell culturing in general with events like this. When the research community shares information, we learn from each other and we advance science. Networking and knowledge sharing is extremely important for the industry and the academia", says Pia Nilsson, Head of GrowDex® Business at UPM.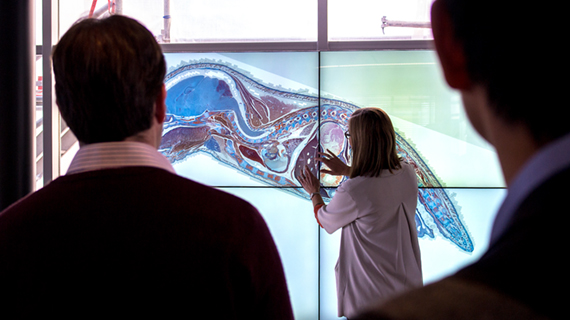 Demonstration of the Fimmic WebMicroscope at Biomedicum on Friday.
UPM Biochemicals is collaborating with research teams around the world. European researchers who gave speeches at the seminar find cooperation with companies in general very valuable.
"Without the industry involvement, fundamental science cannot be useful to people. For academics to talk and build networks with industry is very important. Companies generally have an idea of how they want their products to be developed, but after discussions with researchers their vision can be increased and they might find new applications for their products", says Dr. Paul Roach from Loughborough University.
The research team of Dr. Roach aims to design materials that allow better performance in the body. At the moment they are trying to mimic parts of the brain involved in Parkinson's disease.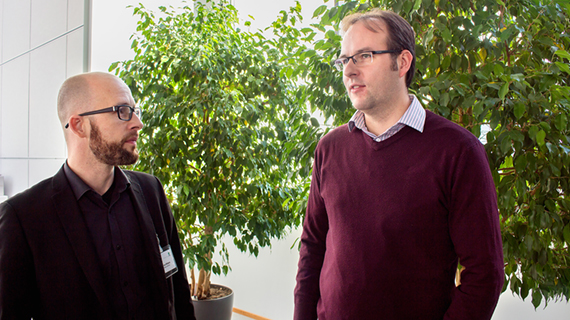 Dr. Paul Roach from Loughborough University (right) has been testing UPM's GrowDex hydrogel in 3D cell culturing for two months. "The data has been very promising. We have tested different types of gels before, and GrowDex is by far the best one. With other gels, we have had problems with air bubbles, but GrowDex has been reliable," he tells Dr. Darius Widera from the University of Reading (left).
Dr. Darius Widera from the University of Reading agrees with Dr. Roach on interaction between academia and the industry.
"It is always important. Even if a product is already well developed, there is always new potential for use if you can think outside of the box. Academics are trained to do it, so we might benefit the industry. Nowadays impact is getting more important, i.e. we are not doing research just because we can do research. We must add some value and welfare to the society, and cooperation with the industry is very good in that sense."
Dr. Widera works in the field of Stem Cell Biology and Regenerative Medicine. His team is mostly interested in applications of adult stem cells in diseases such as Parkinson's or Alzheimer's.
"We'd like to manipulate the cells to behave in a more beneficial way after transplantation into the patient."
Image text: An active round table discussion on Thursday at UPM Biofore house.